anny86 @ :

White Sandwhich Bread
I'm tried of the best bread containing honey. So I thought I'd make my own. I found this recipe online and LOVED it. IT's so easy! I don't know if I'll ever buy bread again (unless of course it comes from Avalon Bakery)
Here is what you'll need
2 1/2 cups warm water
1 package active dry yeast (.25 oz)
1 tbsp sugar
6-7 cups flour
1 tbsp salt
4 tbsp butter, softened

***Before you start this recipe remember bread has to rise, you can't rush that. So only start this if you have at least 4 hours to wait around. ***
Combine 1/2 cup water, yeast and sugar in a large bowl and let stand until foamy - about
10 minutes.
Add remaining water, flour and salt to yeast mixture and mix with a wooden spoon (or in a mixer) until dough cleanly away from the sides of the bowl. Knead in butter until dough is smooth and not sticky. Turn dough out onto a lightly floured surface and continue kneading for an additional minute or two.
Shape dough into a ball and place in a lightly oiled bowl to rise until doubled,
about 1- 1 1/2 hours.
After it has doubled (or near doubled) punch the dough down. (three or four good whacks will cause it to shrink back down to normal)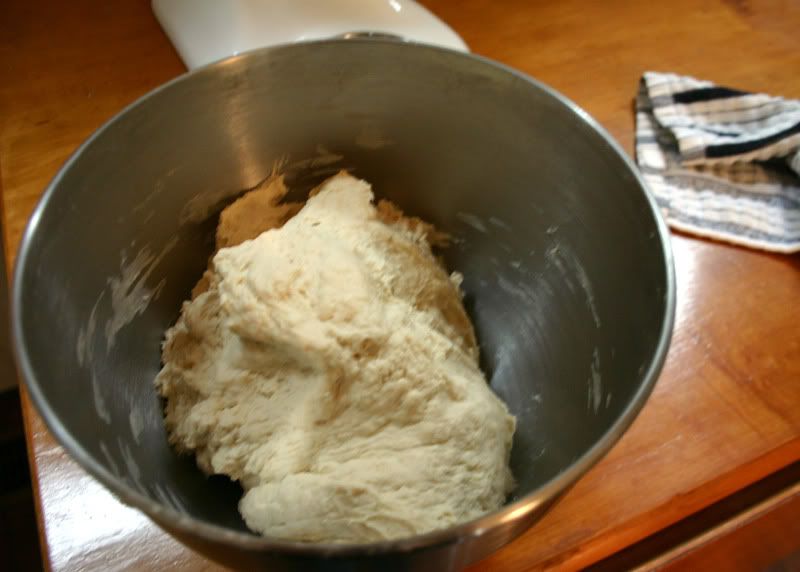 Butter two 8×4 inch loaf pans and set aside. Place dough on a lightly floured surface and divide in two equal portions. Shape as described above and place seam side down into prepared loaf pans. Cover loaf pans lightly with oiled plastic wrap and allow to rise until doubled in size,
about 1 hour.
Dough will rise above the lip of the pan.
Meanwhile, preheat oven to
375F.
Place loaves in oven and
bake for 35-40 minutes.
After 35 minutes, use an instant read thermometer to check the internal temperature of the bread. It will read 200F when the loaves are done. If you do not have an instant read themometer (meat thermometer), simply cook the loaves for 40 minutes and keep an eye on your oven thermometer to make sure the temperature remains constant.
Remove loaves from pans immediately and let cool completely (2-3 hours) before slicing.

Makes 2 loaves or one large one.